Cam and Karina
Meet The Owners - Rocky Mountain Soap Co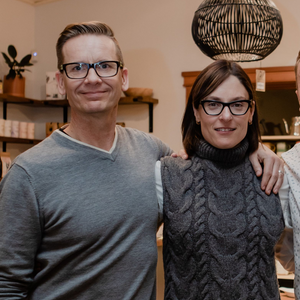 MEET CAM AND KARINA
We had the pleasure of chatting with Cam and Karina, owners of Rocky Mountain Soap Co whom also happen to be Stonewaters new temporary roomies.
Back in their early twenties Karina and Cam bought Rocky Mountain Soap Company with only one employee, $86k in annual sales and 450 sq. ft. With mostly blind optimism fueling the first few years, the two have grown the company to what it is today. Throughout its growth, Rocky Mountain Soap continues to be, handmade, with 100% natural, simple, ingredients.
Read on to learn more about Cam and Karina's love for all things natural and what's next on the horizon for the company 🫧
Rocky Mountain Soap Co was born and
raised in the heart of the Canadian Rockies, how do you feel your surroundings
influence the brand?
The brand represents a mountain lifestyle which to us, means healthy living and a connection to nature.  It's certainly easy to live that mountain lifestyle in Canmore!
What was your original vision when you first acquired the brand, and does it remain the same today?

Product quality was what attracted us to the brand as we were loyal users of
the soaps.  Producing great natural products has always been the most
important thing about the company and is every bit as important today as it was
23 years ago.
What's your biggest source of inspiration?

Wild native plants are Karina's greatest inspiration with their unparalleled
survival techniques.
What piece from the RMSC collectionis your current go to?
Cam - The Juicy Orange barsoap for shampooing, shaving and washing. However, I can't wait to try the Stonewaters x Rocky bar soap but haven't been able to get my hands on one yet except to smell it!
Karina – The Transformative
Cleansing Oil as I love how it removes mascara and leaves the skin feeling clean without drying it out. It's also a great travel companion as I can use it as a body oil as well.
daily rituals that help keep you
grounded through, what we can only imagine are very busy days?
Cam:  Reading the daily
stoic in the morning and doing a gratefulness routine followed by playing some
hockey as often as possible to get some exercise and clear the mind.
Karina:  Daily
meditation when I wake up and cold plunges at One Wellness or in the Bow
River in the summer!
What's next on the horizon for RMSC?
A new store in canmore and a focus on new sustainable project launches we've been working on for a few years.
Ok, now to our favourite part some quick-fire questions for you to answer in only a few words:

C- Cam K- Karina
What is your coffee order?
C:  don't drink coffee 
K:  matcha latte
More is more or less is more?
C:  less is more. But hard to do 
K:  less is more
Favourite scent?
C:  Citrus 
K:  Rose
If you could have a drink with anyone
throughout history, who would it be?
C:  my late grandmother, Betty Anne
K:  my late grandfather, Richard anderson
What was your last Google search?
C:  revelstoke mountain resort
K:  looking for hotels in Indonesia for a trip with Ruby, my oldest daughter
What's a must-have RMSC item everyone
should own?
C:  bar soap.  It can do it all 
K:  essential face cream
- If you could have one superpower
what would you choose?
C:  blink my eyes and go anywhere…
K:  to fly
What's your favourite time of day?
C:  morning 
K: sunrise
First music concert?
C:  nitty gritty dirt band 
K:  new kids on the block
Your go-to-brunch order?
C:  pepperoni or olive oil/sea salt almonds on the go
K:  avocado toast and a mimosa