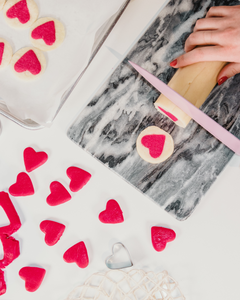 VALENTINES COOKIES
SLICE AND BAKE HEARTS ❣️
What better way to show some love to your favourite person by baking them (or yourself) the cutest cookies you ever did see. Don't be intimidated by the design, they are super straight forward to make and you'll feel so pleased withh yourself once they're done.
I N G R E D I E N T S
3 cups all-purpose flour
1 cup granulated sugar
2 Sticks butter (preferablly cold) cut into chunks
1 large egg
2 tsp baking powder
1 tsp vanilla essence (or even better pure extract)
1/2 tsp almond extract (optional)
1 1/2 teaspoons liquid red food coloring (you may use more or less depending on the brand/how red you want the hearts to be)
M E T H O D
Beat the sugar and butter in a mixing bowl until creamy.
Add in the egg, vanilla extract, and almond extract, beat to combine.
Combine the flour and baking powder, then add to the wet ingredients, and mix with a spatula until incorporated and dough forms. You may find the dough a little dry if so, you can add a few drops of water until it starts to form properly. This is usually if the butter mizture hasn't been beaten for long enough.
Seperate 1/3 of the dough and knead the food colouring into it, this takes some work to become a smooth cosistent colour. You may need to add more or less food coluring depednding on the braand you use and the colour you wish to achieve.
Roll out the colored dough to about 1/2 inch thick... no rolling pin no problem. In the studio we forgot to pack ours... a bottle of wine does the trick nicely 😉
Use a 1 inch heart cookie cutter to cut out your shapes. Re-roll any leftovers and keep going.
Line up the hearts so they are stacked neatly on cling film (plastic wrap), depending on the stickiness of your dough some of them may need a little wash to help them stick. We just mix a little sugar and boiling water and brush this on as 'glue' where needed. Wrap them in the film and refrigerate for atleast 30 min.
Roll the uncoloured dough into long narrow sausages based on the length of your heart stack.
Begin to place the ropes around the hearts, gently pressing the ropes to fit around the hearts. We like to start with the dip at the top of the heart and the bottom sides to make more of a circle to work with. Continue until the hearts are completely covered and form a large sausage shape.
Gently help shape the dough by rolling it. Wrap the cookie dough sausage in cling film and refrigerate for at least 2 hours or over night, if you're in a rush blasting them in the freezer for 45 mins should also work.
Once the dough has been suitably cooled, slice into cookies around 1/2 an inch think. Place them on a lined baking sheet and baked in a pre-heated oven at 350º F for 8-10 minutes.
Remove from the oven and allow to cool for a few minutes before fully cooling on a wire rack.... insider tip, if the cookies have expanded in a slightly crooked way, take a large circle cookkie cutter when they re till a little warm and cut them back into perfect circles... works a charm.
Enjoy! ❣️