DORIAN KITSCH
MEET THE FOUNDER - COUTUKITSCH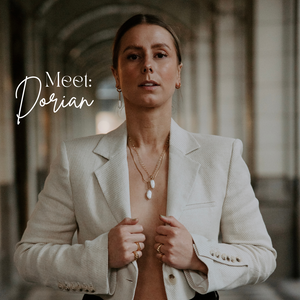 Meet Dorian ✨
We had the pleasure of chatting with Coutukitsch founder and all round icon, Dorian Kitsch.
Inspired by a personal desire for pieces that are accessible and easy to wear, COUTUKITSCH began as a passion project in late 2010. In November of 2014 the home based business opened up shop in Inglewood, Calgary. The Livery Shop houses the store front and studio for the brand.
Read on to learn more about Dorian, her passion for TikTok (same, same) and what inspires her and her brand ✨
You founded Coutukitsch in 2010, fast forward 13 years and the business is going from strength to strength, did you ever imagine the business becoming what it is today?
In 2010 I wasn't quite sure what to expect, I had only started making jewelry as a need to create. By early 2011 I knew we had something good and that's when I started to have big dreams for the future of the brand. 
What was your original vision when you launched the brand, and does it still remain the same today?
I just wanted to make cool jewelry that was accessible. That is definitely still really important to us.
What first attracted you to the jewelry industry?
I've ALWAYS loved jewelry. When I was a child I would make all kinds of jewelry and my love for sparkly things has never wavered.
What's your biggest source of inspiration?
Travel is a big source of inspo for me. I'm always taking screen grabs from articles, IG, Pinterest and I save them in a folder in my phone to reference for inspiration later. We get together as a team for design meetings and everyone shares what they think we're missing from our collections or designs they want personally. I also get inspired when sourcing supplies and my mind just kind of wanders to creating designs in my head. We basically create jewelry that all of us want to wear ourselves!
Can you remember the first piece you ever designed for Coutukitsch?
Yes! I took apart a necklace that had rectangular metal tube beads. After searching tutorials online, I went to Walmart and bought wire and tools and I wired each bead onto ear hooks to make earrings. They were all different colours of metal and wire and different lengths - I have been obsessed with mixed metals from the very beginning 🤣
What piece from the Coutukitsch are you currently wearing?
You won't catch me without Goldie hoops and charms these days.
Our 2023 Motto is all about evolving routine into ritual. Do you have any daily rituals that help keep you grounded through what we can only imagine are very busy days?
I wish I was better at this or had better advice - I think I'm the one that needs advice lol! Lately I have been taking a step back and looking at inconveniences or not-ideal situations before reacting which I find really helpful. This helps me see that it's usually not a big deal and that we can find a solution as a team. I've also been using the lucky girl mindset and I just tell myself over and over how lucky I am - thank you TikTok, this actually works. Oh and CBD every morning 😉
What's next on the horizon for Coutukitsch?
You can expect to see some major changes at Coutu in 2023… that's all I can share for now, sorry!
Ok, now to our favourite part some quick-fire questions for you to answer in only a few words:
What is your coffee order?
Oat latte
More is More or Less is More?
More is more baby
Style Icon?
I have so many - just real women on TikTok/IG honestly. I love @larissamills, she is so effortlessly chic. Also @highlowluxxe on TikTok - I'm obsessed.
If you could have a drink with anyone throughout history, who would it be?
Julia Fox would be so fun to hang with.
What was your last Google search?
I can't share! haha - it has something to do with future plans.
What's a must-have jewelry item everyone should own?
A simple chain and hoops - they can take the most simple outfit to the next level
If you could have one superpower what would you choose?
To put Coutukitsch on anyone I wanted
What's your favourite time of day?
Evening when it's quiet haha
First music concert?
Dixie Chicks LOL
Mixing metals, acceptable?
Yes! Yes! ABSOLUTELY 
What's your star sign?
A very proud Tauras