TATIANA CARRION
MEET THE FOUNDER: BEADS + BABES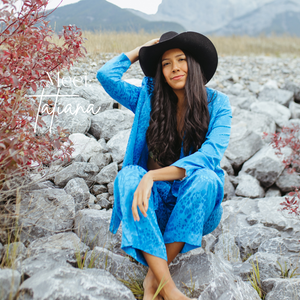 MEET TATIANA
We had the pleasure of chatting with the founder and artist behind Beads + Babes, Tatiana.
Beads + Babes was born with the intention of uplifting people's spirits and bringing more beauty into the world, Tatiana wanted to create wearable art that sparked meaning and feeling.
Read on to hear about Tatiana's design inspirations, her daily rituals and of course... her latest google search 💙
Beads + Babes was born and raised in the heart of the Canadian Rocky Mountains, how do you think these amazing surroundings influence your work?
That's a great question! Being surrounded by the nature of the Rockies has definitely influenced my work. Nature is part of what fuels my creativity – not only nature's physical beauty, but the energy that nature carries too. I always felt this overwhelming sense of peace living in the Rockies. You're surrounded by these giant rock beings that tower over you in every direction, it's incredible. The mountains have guided me over the years and I have so much to thank them for. I'm not sure B+B would exist had I lived anywhere else. I think living in the Rockies really gave me the clarity and the space to birth this creative venture to life.
What was your original vision when you first started the brand, and does it still remain the same today?
When I started this business, I just wanted people to wear my art in hopes it made them feel something. I wanted to uplift people's spirits and bring more beauty into the world, one earring at a time. I still do that and will continue to do so for as long as time will allow.  
What's your biggest source of inspiration?
Nature is a big one. My eye is always drawn to the intricate patterns found in nature. I am also fascinated by modernist art movements. I like big, bold colours and abstract everything. I like mismatched patterns that look like they wouldn't go together but then they do. You can definitely see both of these inspirations in my current work!
Your current go to piece from your collection?
Despite making tons of earrings, I have a handful of styles that I always end up sticking to. The ones I wear the most are my giant snakes – black snakes lifting their heads towards a red sun on a cream background. As snakes shed their skin, they too remind us to let go of the things that are no longer serving us. I love wearing these as a constant reminder to go through different areas of my life and let go of the thoughts, patterns and beliefs that are holding me back.
Our 2023 Motto is all about evolving routine into ritual. Do you have any daily rituals that help keep you grounded through what we can only imagine are very busy days?
Meal time is very sacred to me – it's definitely more of a ritual than a routine. Without nourishment, our bodies cannot function optimally, moods begin to fluctuate, we feel tired and lose motivation. On busy work days, I need lots of energy and a sharp mind. Because I work from home, I am able to cook meals at my convenience, which is a great way to break up my work day and ensure I'll get the right nourishment to fuel my body and mind. I love to cook and I find making food from scratch to be very meditative. So even on those busy work days, meal time keeps me grounded for sure – the prepping, the cooking, the eating – all of it.
What's your favourite part of running a business?
That I get to work for myself!!! I get to make a schedule that works for me. If something comes up, I can easily move my days around and make it work so that I get to do the thing that isn't work AND get my work done. I also LOVE working from home and I love that this is a business I can do from anywhere in the country (or dare I say world?)
What's next on the horizon for Beads and Babes?
I'd say growth is on the horizon for B+B – currently working on a website which is really exciting! I hope to launch it by summer time. Also have some festival/market appearances in the works, so stay tuned!
Ok, now to our favourite part, a few quick fire questions for you to answer in only a few words:
What is your coffee order?
Cappuccino, please! ☕
More is more or less is more?
Oooof this is hard… I'm gonna go with more is more ✅
Favourite colour combo?
Right now, definitely orange and blue 🧡💙
If you could have a drink with anyone throughout history, who would it be?
My parents when they were younger 👧🏻👦🏾
What was your last Google search?
"When is the storm supposed to hit" (currently expecting a big dump of snow) 🤣
What's a well-being item everyone should own?
Mineral drops to re-mineralize your water 💧
If you could have one superpower what would you choose?
Teleportation 100%, I'd like to be able to travel to tropical destinations…quickly lol 🏝️
What's your favourite time of day?
Something really special about getting up with the sun (not that I do this often, but when I do it's magical) 🌞
First music concert?
Arkells, when I was in highschool I think? 🎵
Your go to brunch order?
If I still lived in Canmore, a traditional French galette from Épi 🤤
Your star sign?
Sagittarius baby! 🏹